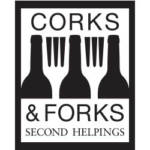 Spring 2020
7:00 pm – 10:00 pm
Bankers Life Fieldhouse
Each spring, Corks & Forks brings together Indy's top chefs, bartenders and business leaders to fight hunger and poverty in our community. Chefs prepare small plates at their individual stations while guests mingle and enjoy good food, fine wines, unique cocktails, live entertainment, and a silent auction. The creativity of our local restaurant scene shines as the centerpiece of this food-focused, zero waste event held in the most exclusive spaces of Bankers Life Fieldhouse.
Thanks to generous sponsors, chefs and attendees, proceeds from Corks & Forks 2019 sent more than 187,000 meals into Central Indiana. Take a look at back at the event and relive the excitement.
Chef Jeremy Martindale
& Chef Eli Laidlaw
The Alexander Hotel
Chef Elizabeth Garber
The Best Chocolate in Town
Chef Tony Gargano
Cafe Soleil at Eskenazi Health
Chef Erin Kem
Cannon Ball Brewing Company
Chef Adam Laskowski
Chefski
Chef Frank Brown
Courses Restaurants & Bakery
Chef Ricky Martinez
Delicia/La Mulita
Chef Dan Reskevich
Eddie Merlot's
Chef Jake Burgess
FoxGardin Kitchen & Ale
Chef Ben Hardy
The Gallery Pastry Shop
Chef Adam Ballard
JW Marriott
Chef Ryan Nelson
Late Harvest Kitchen
Chef Christopher Albano
Levy Restaurants
Chef Tiffany Jablonski
Livery
Chef Dean Sample
Northside Social
Chef Steve Oakley
OAKLEYS Bistro
Chef Glenn Brown
The Point on Penn
Chef Clarissa Morley
Pots & Pans Pie Company
Chef Ross Katz
Rooster's Kitchen
Chef Ricky Hatfield
Skyline Club