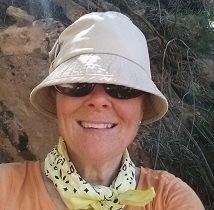 Meet one of the loveliest ladies in all the land— September 2019 volunteer of the month, Ann Sharp. She's as sharp as a tack when it comes to sorting bread for our partner agencies. Since 2015, Ann has spent over 330 hours of her time towards ensuring that everyone receives the exact varieties of bread they need. I mean, we can't provide jalapeno cornbread to a daycare, right?! That would be madness.
When Ann lived in Brownsburg, she volunteered for many years at an annual Christmas food drive. She knew that when she retired from her career as a teacher and librarian, she wanted to spend her time fighting hunger. That's when she discovered the wonderful world of Second Helpings.
Ann volunteered in the Hub and wrapped pans before she discovered that bread sorting was her niche. You can find her every Thursday afternoon sorting bread like there's no tomorrow. She's got the sorting process down to a science and she not only trains new volunteers, she often helps out on days when we are in pickle.
What inspires Ann to volunteer?
When asked what she likes most about volunteering, she says, "The mission is what drew me in— hunger relief, food rescue and job training. What more could you ask of an agency? The people keep me coming back every week. Everyone is so welcoming and willing to help wherever they can. Also, the free lunches are a bonus! I have helped to train others to do what I love in the bread sorting area and that makes me proud."
What does she do in her spare time? "When not volunteering I go to the gym, play pickleball (so much fun), attend our grandson's cross country meets, garden, run a book club, visit our grandchildren in Minnesota, and travel," she says.  We just got back from a two-week trip hiking in Arizona and New Mexico.  It was hot (dry) and many of the wildflowers were in bloom in the desert.  So beautiful."
Ann, you are one stellar lady and we are so grateful for your dedication towards ensuring that our new bread sorters have such a fulfilling experience. Not only that, but we can't thank you enough for the thousands of bags of bread you have sorted over the years. You are one true hunger relief hero.
Want to join the fight to #FeedIndy with Ann?