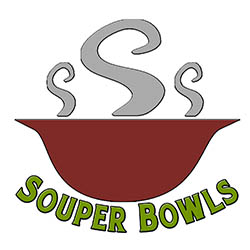 Saturday, January 25, 2020
11:30 am – 1:30 pm
Second Helpings | The Eugene and Marilyn Glick Center
1121 Southeastern Avenue, Indianapolis, Indiana 46202
Souper Bowls began in 2012 when Indy hosted the Super Bowl and has now become a popular, annual community event that brings together top, local chefs for a friendly soup competition. It gives the chance for chefs to showcase their unique soup creations while we open our doors to introduce guests of all ages to the fight against food waste, poverty and hunger in our community. Guests enjoy unlimited soup tastings, voting for their favorite soup, and purchasing their favorite soup (or soups!) to-go. Join us in January for a little competition and a whole lot of fun – you decide whose soup will reign supreme?