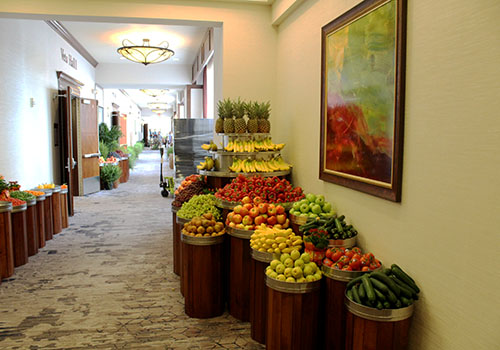 Yesterday, Second Helpings staff and volunteers had the opportunity to rescue food from the annual Caito Foods Show at Marriott Indianapolis East. Each year, Caito Foods invites its customers to check out the latest and greatest products the Central Indiana produce distributor has to offer. The company installs a grocery store complete with shelves lined with beautiful produce.
At the end of the event, rather than let all of this delicious produce go to waste, Caito Foods invites Second Helpings staff and volunteers to rescue the food for use in our Hunger Relief and Culinary Job Training programs. Yesterday, six staff members and seven volunteers filled three rescue trucks and three vans with more than 18,000 pounds of food in under three hours. 
In the days ahead, Second Helpings volunteers will transform this food into thousands of delicious meals delivered to more than 90 partner agencies servicing Indianapolis' most vulnerable residents. Thanks to generous food donors like Caito Foods, a child will not need to wonder where dinner will be served after school tomorrow, a senior will not face the choice of purchasing the medicine they need to survive or their next meal, and many of our local nonprofits will not have to cut critical programming in order to provide a healthy meal to the people they serve.
While the Caito Foods show is notable for the amount of food it donates to #FeedIndy each year, it is hardly unique in terms of the types of events Second Helpings staff and volunteers work with each day. Are you hosting an upcoming event, ensure no food goes to waste by contacting Second Helpings' Director of Food Rescue and Transportation, Jon Meinert: jon@secondhelpings.org / (317) 632-2664 ext. 122. Or simply click the button below and fill out the simple donation form on our website. We strive to make sure that fighting food waste is simple and easy for each of our food donors.