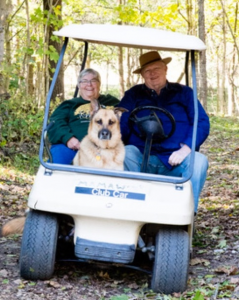 Dungan is their name and sandwich making is their game. Since 2017, John and Terry have collectively contributed over 1,300 hours of service towards eliminating hunger and food waste in our lovely community. These two have hearts of gold that shine like sunbeams onto the mission of Second Helpings.
John and Terry were introduced to Second Helpings by Terry's sister, Francine Stonehouse, who also happens to be a Volunteer of the Month veteran! They came in for a tour and the next thing we know, they are setting up a food prep station in our cafeteria every Tuesday and Thursday with several other friends they've recruited. It's a beautiful thing the way you lovely volunteers spread the word about Second Helpings.
Sandwich making, produce chopping, pan wrapping—you name it and they will do it. Why do they do it, you ask? "We love the camaraderie at Second Helpings. The smiles of staff and fellow volunteers are a joy to come into twice a week. We are honored to be part of an organization where we are so proud of what they do."
When they aren't at Second Helpings, they are quite the campers. They have visited and camped in every single state in the union. Not only that, their son has a 40-acre farm south of Indy where they spend their spare time working and sleeping under the stars. Oh, and those farm fresh eggs we use in our Hunger Relief meals sometimes, those come from their chickens, too! Those must be some of the most pampered chickens in the world.
Words can't even begin to express our gratitude for every single thing these fabulous folks do for us. Being greeted by their lovely faces in the cafeteria each week will bring a smile to anyone's face. Thank you so much for blessing Second Helpings with your dedicated spirit. We are forever grateful!
Are you interested in serving your community like John & Terry?