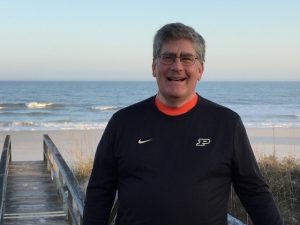 On Mondays, he throws his creativity into the tilt skillet and on Wednesdays he hops behind the wheel to deliver those tasty meals out to the community. Every. Single. Week. The phrase should most definitely be "Tim of all trades."
For years, our volunteers from Allisonville Christian Church have been remarkable stewards of the mission of Second Helpings. When Tim took a tour with his outreach group in 2013, he jumped right in by cooking ground beef on a tilt skillet. It didn't hurt that one of his fellow Purdue alums and Eli Lilly colleagues who is also a Second Helpings volunteer, kept singing the praises of our volunteer family. After that, he knew exactly where he wanted to contribute his time upon retirement. What did he do prior to retirement, you ask? His career was in Discovery Chemistry at Lilly Research Laboratories where he designed and synthesized enzyme inhibitors that block pathways that are out of regulation in cancer. No big deal, right?
Since the beginning of 2018, Tim has contributed over 250 hours of his time towards preparing and delivering meals to our 90+ partner agencies. When asked what he is most proud of accomplishing during that time, he says, "Being part of a team that prepared and served over 100,000 meals for the last two months is one thing that makes me proud.  Sharing the delicious, nutritious meals prepared at Second Helpings with neighbors when I serve lunch at Horizon House the first Monday of the month also makes me proud.  Learning about the stories of the lives that are touched by the mission of Second Helpings really makes me proud and sometimes makes me cry.  For example, I was serving burritos for breakfast at Horizon House with a group of friends with whom I worked at Eli Lilly last December, and one of the neighbors we served told me a story about how he was getting the keys to his apartment that very day.  He had a great big smile on his face that went from ear to ear.  It turned out that he went through the culinary training program at Second Helpings in August 2018.  He had been working since completing the training and he saved enough from August to December that he was ready to get the keys to his own apartment.  I shared this story with my church, and the Youth Group and the Outreach Committee from Allisonville Christian Church decided to donate $5000 to sponsor a culinary training class in 2019."
In addition to his tireless volunteer efforts at Second Helpings, he also volunteers at Horizon House where he serves breakfast every Friday morning with friends from Lilly and lunch on the first Monday of every month with a group from his church. He's on the Elder team at Allisonville Christian Church, and in case you were beginning to think that all of his time is taken, think again! Tim also volunteers on the Tiger team at Habitat for Humanity where he and his wife began serving as homebuyer mentors.
Outside of his post-retirement volunteer career, he enjoys hanging out with his wife, Carolyn, 3 kids, Elizabeth, Robbie and Olivia, and his 2 grandchildren, Teagan and Bennett. He spends his down time on the beach in South Haven, Michigan, where he's learning to sail and loves to walk his dog, Thaddeus.
Thank goodness for that tour back in 2013. That was clearly one for the record books. Tim, we are forever grateful for your dedication towards our mission and your passion for service within our community. You are one true hunger relief hero!