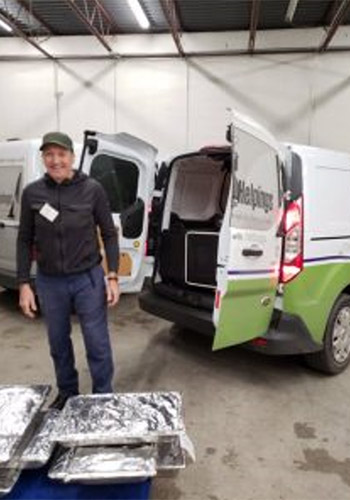 Volunteer of the Month for August 2019 is the ONE, the ONLY, Nick Taylor! Yes, yes, Nick is quite the neighborly English gent and we are incredibly fortunate that he chose to join forces with the best volunteer family in Indy. Since July 2017, he's contributed nearly 350 hours of his time towards transforming lives through the power of food.
While on a school trip to New Zealand with his family, he was introduced to Second Helpings by our CEO, Jennifer Vigran. As she casually explained our three-part mission, he began to understand its scope and how vital it is towards eliminating hunger and food waste in our lovely community. Upon his return to the States, he attended a Volunteer Orientation and began delivering Hunger Relief meals to our partner agencies. It didn't take long for him to decide he wanted to jump behind the wheel, so not only did he become a volunteer driver, his company, Netlogx, also sponsored one of our vans.
You will find Nick every Wednesday morning (and sometimes afternoon) driving along with his neighbor, Bob. They deliver meals to our many partner agencies in the charming way that he does so well. He occasionally assists with Food Rescue and in the Hub, too! When asked what he likes best about volunteering at Second Helpings, he says, "The people that I volunteer with! They are kind and funny and hardworking and have inspired me to want to do more. Steve Tinsley taught me the delivery process. Mike and Peggy Lee told me all about the agencies, and all my Wednesday chums made me feel so very welcome. I have also really enjoyed getting to know the people we serve. There are some wonderful people out there giving themselves to help others. My favorite agency (yes, I do have one) is Cathedral Kitchen. I love the ladies who work there and I'm in awe of the work they do. I also get hugs from them which brightens my day!"
Nick's proudest accomplishment is, "Being able to spread the word about the mission and encouraging others to join in. One of my great delights is now I get to work with my neighbor, Bob! He's a great character and we have a wonderful time putting the world to rights as we deliver nutritious food to our fellow Hoosiers."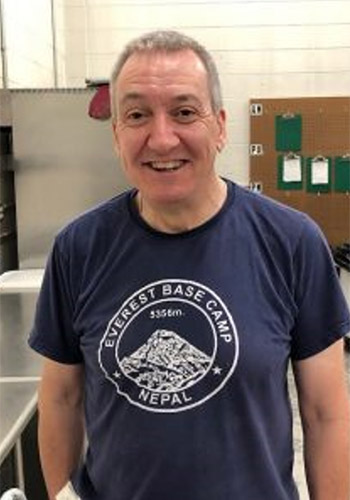 What does he do in his spare time? Ha! What spare time?! With his wife, Audrey Taylor, he is the owner and co-founder of Netlogx, an Information Risk Management company. They travel the world together and he currently enjoys learning the Spanish language. In addition to supporting Second Helpings, he's an avid supporter of WFYI. You might've even heard his voice a time or two on their radio pledge drives! You will also occasionally find him on a home build for Habitat for Humanity where he recently discovered that he rather enjoys the art of roofing.
Does Nick's full plate make you want to take a nap? Well, not so fast, because you definitely want to hear what his family defines as the most interesting thing about him. They said, "Mention that you stopped a lady from choking by using the Heimlich maneuver." So, "Yep," he says, "that's what I did a couple of years ago and it still gives me the goosebumps to think about it. As her family and restaurant watched I stepped in and — I know you are wondering — so yes, the piece of meat she was choking on shot across the restaurant!"
So, to sum it all up, Nick is a literal lifesaver in more ways than one. We are beyond grateful for his stewardship of Second Helpings. His passion for serving our community is priceless, and we can't thank him enough for going on that trip to New Zealand.
Are you interested in becoming a meal delivery driver like Nick?