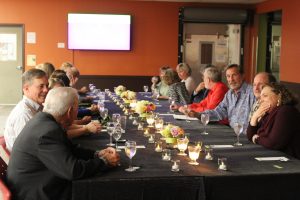 Earlier this month, Second Helpings was honored to share a delicious meal with some longtime friends and supporters. The dinner was the first annual Legacy Society Dinner, honoring supporters who have established planned gifts for Second Helpings.
We are so grateful for the commitment shown by this generous group of donors, some of whom are also volunteers. These generous donors want to ensure that Second Helpings will be here to serve generations of hungry Hoosiers in the decades ahead. For that reason, we were happy to do what we do best by preparing a delicious meal on their behalf. The evening included remarks from Second Helpings' CEO Jennifer Vigran, in which she was able to share the exciting news of our 100,000 meals milestone during the month of April and details on what to expect from this organization in the future as part of our five year strategic plan.
"Second Helpings has been a part of our lives almost 20 years now and we believe in the mission and work that Second Helpings does even more now than we did when we first became involved with the organization," said Second Helpings volunteer and Legacy Society member Marie Powell of she and her husband Toby's decision to include Second Helpings in their estate plans. "We choose to give both time and money on a yearly basis to support the work of Second Helpings.  When we started thinking about estate planning it was only natural that Second Helpings would be part of that picture as well.  We hope our giving, both now and in the future, will help sustain the organization for as long as there is a need here in Indianapolis."
A planned gift may sound intimidating, complicated or something exclusive to the 1%. It's not. The most common planned gifts also happen to be the least complex. It's easy to include a charity like Second Helpings in your will or as a beneficiary of a life insurance policy or retirement account. To learn more about the different ways to make a planned gift or if you have already made a planned gift to Second Helpings, please contact Sr. Director of Philanthropy Katie Prine at 317-632-2664 ext. 138 or katie@secondhelpings.org.
The menu was designed by Executive Chef Kathy Jones, and prepared with the help of Culinary Job Training chef instructors and Hunger Relief staff. Check out the complete menu below.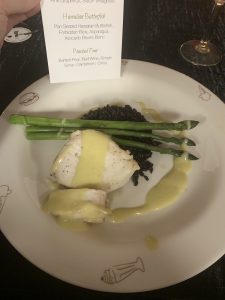 Legacy Society Dinner
May 15, 2019
Appetizer
Scallops & Goat Cheese
Pan seared pesto crusted Scallop, Roasted red pepper, Heart of palm, Crostini
Soup
Clam Miso
White miso broth, Clam, Wakame
Salad
Greens with Stilton Vinaigrette
Mixed greens, Pancetta, Pecan halves, Pink Grapefruit, Stilton Vinaigrette
Entrée
Hawaiian Butterfish
Pan seared Hawaiian Butterfish, Forbidden Rice, Asparagus, Avocado Beurre Blanc
Dessert
Poached Pear
Bartlett Pear, Red Wine, Simple Syrup, Cardamom, Cirtrus